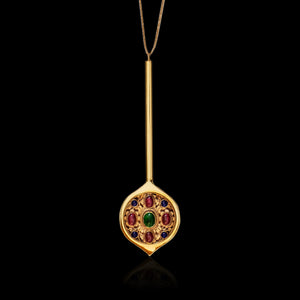 Venetian Eye, the gold pendant takes the shape of a magnifying glass displaying details of Venetian hidden art and architecture. A detail of the Iron crown is represented in the center. In satin yellow gold with cabochon cut sapphires, garnet and peridot. 
*Each piece is entirely made by hand by only one craftsman.
Details
14kt yellow gold
22''  long 14kt gold chain 
Four cabochon cut sapphires, four cabochon cut garnet, one cabochon cut peridot.